Mrs. Odboddy's Desperate Doings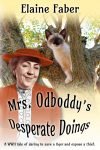 After falling from a tree, Agnes's behavior and delusions escalate from 'merely eccentric,' to 'near mayhem ' Still seeking a permanent home for a displaced carnival tiger, she goes to unthinkable extremes in an effort to prevent city hall from destroying the big cat. When Agnes witnesses a well-known citizen commit burglary, and the church's beloved Good Shepherd painting goes missing, she becomes obsessed with exposing the art thief. But, questions arise whether the extent of her bizarre behavior is due to a 'brain bleed' from her head injury, or is something amiss in her medical treatment?
As WWII rages across the Pacific, dealing with victory gardens and rationing at home doesn't stop Agnes from fighting the war from the home front. From city hall, to the hot seat at Newbury's Police Department, and finally to a San Francisco mansion, Agnes pursues injustice to save a tiger and expose a shocking conspiracy at the highest levels of Newbury's elite society.
Mrs. Odboddy's Desperate Doings is a hilarious WWII mystery-adventure you'll not soon forget. To purchase an Amazon e-book for $3.99, go to  https:/tinyurl.com/5xah4cnt