Sunday, April 18th, 2021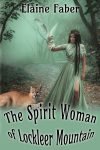 I've published four cozy cat mysteries, starring Black Cat, who, with the aid of his ancestors' memories, helps his 'person' solve mysteries and murder.
That was followed by three humorous historical fiction novels set during WWII. An elderly retired government undercover agent, Mrs. Odboddy, believes Nazi spies and conspiracies abound. She is determined to expose and bring the miscreants to justice.
Thinking it was time to move on to something new, I remembered a somewhat humorous short story I wrote several years ago about a sewer truck owner. While pumping out a septic tank in a rural community one day, he stumbles upon a drug lab, and uses his truck to facilitate his escape.
Sewer truck driver? Cozy mystery? Humor? Sounded like s story that begged to be done in a full length novel, something right up my alley.
The Spirit Woman of Lockleer Mountain takes place in the CA Sierra foothills where folks still have wells and septic tanks. Despite my intentions that the story follow a typical humorous cozy mystery concept, as so often in the past, when I started to write, the characters took over and sent me in a completely different direction. Where did a Native American legendary spirit come from?
So the story concept" Lou Shoemaker owns a sewer truck, the Pooper Scooper. Her business takes her into the mountainous region pumping out rural septic tanks. There ensues a budding romance with Lou and Deputy Sheriff, Nate Darling. Nate's sister, Suzanna, has mysteriously disappeared three months previously following a minor motor vehicle accident and has not been seen since. The government is up to some shenanigans, pursuing plans to build a mysterious facility near the town without the knowledge of the city fathers, and the local businessmen aren't happy. When a drug dealer starts selling drugs to the teens on the Native American reservation nearby, it seems their legendary Spirit Woman, said to protect the community, needs to take a hand. Sightings of a woman and her pet mountain lion are frequently seen at moments of crisis. Nate is even convinced that the elusive woman is his missing sister, suffering from amnesia.
It remains to be seen if the Spirit Woman, real or imagination, can bring about a resolution to the town's troubles and help find Suzanna.
Check out the book on Amazon at http://tinyurl.com/y7rp7f3x  (ebook $3.99) or contact me directly at Elaine.Faber@mindcandymysteries.com  for an autographed paperback. $14.00 and free shipping.