Friday, February 21st, 2014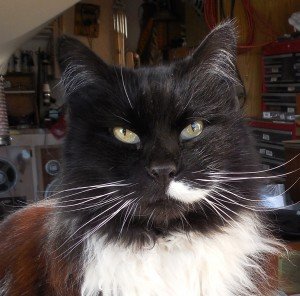 I opened my eyes this morning and found a black and white cat lying on my bed, casually washing first one large white foot and then the other. At first I didn't think anything of it, and then realized it wasn't our cat, Boots, but a cat that resembled him so closely as to be easily mistaken. It was Thumper, the cat from my book, Black Cat's Legacy!
I rubbed the sleep from my eyes. "Thumper? What are you doing here?"
"I figured since Black Cat's Legacy was due out next month, you should introduce me to your readers."
For the past three years, I've researched, ate, laughed, cried and slept with this cat while working with three different teachers learning how to improve my craft and fine-tune the novel. Thumper flopped next to my hip. "What shall we talk about?" I scratched his back.
"Why don't we start with my character and explain why I'm so important to your plot." He lifted his head and blinked.
"Well, your cat family has lived at Fern Lake for generations. Apparently twenty-five years ago, your ancestor witnessed a murder, but the killer was never found. The Fern Lake cats made a pact, that one day, when the chosen one returned, they would help her solve the crime.
Sure enough, Kimberlee shows up at the lodge with her little girl, and your character realizes it's his legacy to help her solve her father's murder and unravel several other dastardly deeds that occurred so long ago.
But someone at the lodge begins to harass and make life miserable for Kimberlee with accidents and threats. If it wasn't for Brett, the charming author she falls for, she would have hit the road the first day. Brett convinces her to stay and help him solve the case."
"What about Dorian, the pretty cold case detective who also has the hots for Brett? She and her Search and Rescue dog join the investigation. They influence the story line as well. Should you tell about her? "Thumper licked his left shoulder.
"Dorian creates some angst in the story with her; I can't get over my gorgeous self."
"Tell that I help narrate the story and the reader gets to view the situation through my eyes." Thumper pulled his whiskers back in a cat-grin. "We're going to give Sneaky Pie and Midnight Louie a run for their money with our cat mystery. Where can the reader get the novel?"
"Black Cat's Legacy should be available on Amazon before the end of March or folks can pre-order it now, directly from our website and get it autographed with my name and your footprint. www.mindcandymysteries.com The folks can send in questions if they want to know more about you or any of the other characters. Maybe we'll do another interview. What do you think?"
"Sounds like a plan." Thumper jumped off the bed. "When are you getting up? I'm hungry."
Isn't that just like a cat? Even imaginary ones.
To Purchase Black Cat's Legacy, go to the header BOOKs. Special price and free shipping within the USA