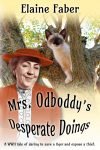 Following is an excerpt from Mrs. Odboddy's Desperate Doings. Agnes has received a call that Shere Khan's caregiver, has quit. Agnes has tried unsuccessfully to date to find a permanent home for the displaced carnival tiger. What to do? What to do?
****
Agnes hung up the phone and put her hand to her throbbing forehead. She was running out of money to feed Shere Khan and still hadn't found the tiger a permanent home. Now, her caregiver had given notice. What able-bodied man in the county would be willing to clean the tiger's cage and feed him? The dreaded option of destroying Shere Khan returned, as the city council recommended. Only after Mr. Higgenbottom allowed the tiger's caravan to be parked at his farm, was the city councils' edict temporarily lifted.
Was it time to ask the Almighty for another intervention? Feeling on pretty good terms to ask for another intercession, she knelt by the side of the bed, and bowed her head.
"Lord, it's me, Agnes Agatha Odboddy. Yes, I know you must be pretty disappointed with me most days, but I do my best, Lord, really, I do. You won't be surprised to hear that I'm in another jam. It's not about me this time, Lord, it's for Shere Khan. I know you're busy with the war in the Pacific and all, so I'll get straight to the point. I need a caregiver for the tiger right away, and I need a permanent home for–"
Bing… Bong… The doorbell? Agnes lifted her head, and then bowed it again. "Someone's at the door, Lord, but I'll be right back. I'd appreciate it, Lord, if You could ponder on a solution while I'm gone. Uh…Amen!"
Agnes flung open the front door. "Oh, my stars. You! What are you doing here?" She grabbed the visitor's arm and pulled him inside. "Was it your idea to come or did God send you?"
He shrugged. "Well, I… I guess it was mine."
In the past, due to her inability to keep her nose out of things that didn't concern her, Agnes often found herself in a pickle. As a result, she would get on her knees and bargain with the Lord for deliverance. Thanks to the Almighty's benevolence, her conundrum always reached a satisfactory solution. But, never in her history of misadventures had He answered her prayer before she even finished her request and got to the 'Amen,'
There sat Charles, the young man from Albuquerque, who risked his life last summer to help her.
"Charles, how do you feel about working with animals, like chickens and cows, … or… other animals?"
"Oh, I love animals, and I'm looking for a job. That's why I came. What did you have in mind?" His smile brightened.
"As it happens," Agnes said, "a friend needs a ranch hand. Um…how about cats? You okay with cats? I mean, really, really big cats…?"
*****
To purchase this Amazon e-book, go to: https://tinyurl.com/5xah4cnt  ($3.99) or contact me directly at Elaine.Faber@mindcandymysteries.com for a paperback copy. Mailed within USA for $15 – free shipping.
You can read all my books for FREE on Kindle Unlimited. See if that's right for you.
Tags: adventure, art theft, carnivals, cozy mystery, elderly sleuth, fiction, historical fiction, humor, San Francisco, tigers, women's fiction, WWII