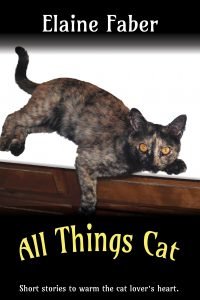 I read that when cats are cuddling and kneading you, and you think it's cute, they're really just checking your vitals for weak spots. Kandyse McClure
If man could be crossed with the cat it would improve man, but deteriorate the cat. Mark Twain

From the beginning of recorded time, cats have shared our lives, gained our trust, protected our harvests and warmed our beds. They were likely the first aboard Noah's ark and the last ones off, not wanting to get their feet wet.
Over the centuries, cats were both revered and worshipped in ancient Egypt and reviled during the dark ages when they were thought to consort with the devil.(Upon occasion, considering some of my cats' antics, I've had my own suspicions about their continued devil consorting.)
Currently, cats have taken over millions of American families. Cats have become one of the most popular subjects of Facebook and You-Tube videos. With so many people enjoying cats and cozy-cat mysteries, I felt a book of short stories about cats would be well-received. I compiled twenty-one of my best short stories that are either about a cat or include a cat and published a little book called All Things Cat. http://tinyurl.com/y9p9htak
All Things Cat stories range from humorous to heartrending, featuring cats from diverse walks of life and varying periods of time.
Some are 'first-person' accounts, written by anonymous felines, abandoned by his master, the prize in an Old West poker game, routing a burglar in a WWII meat market, overcoming self-doubts about his hunting/stalking abilities, and adopting the First Family in the White House. Likely, these feline authors had no intention of sharing their innermost thoughts, dreams and fears with the world, but, as an author, that's what I'm here for, right?
Other stories were inspired by a plethora of situations, news events, contest prompts, holidays, and the like. They illustrate how cats affect, impact or enrich our lives through their contributions or companionship.
The stories are set in both past and present and in diverse surroundings: Salem, Massachusetts, a pirate ship off the coast of Maine, a haunted hotel in the Sierra Mountains, Roswell, New Mexico, and the oval office in Washington, D.C., to name but a few locations.
Also included are excerpts from my novels, Black Cat and the Lethal Lawyer, and Black Cat's Legacy, and Mrs. Odboddy – Hometown Patriot.
So, whether you are a cat lover or a reader who enjoys stories about cats, I expect you would enjoy reading All Things Cat. Just $2.99 for an Amazon e-book. http://tinyurl.com/y9p9htak
Tags: adventure, animal lovers, animals, cats, fiction, history, humor, short stories