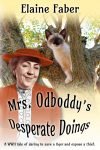 I just finished the last chapter of my latest Mrs. Odboddy mystery/adventure, Mrs. Odboddy and the Conniving Candidate. In this novel, Agnes Odboddy is running for a seat on the Newbury City Council, vacated by the removal of a previous member, described in Mrs. Odboddy's Desperate Doings.
The open city council seat attracts the attention of Horace Faggenbacher, owner of the Flying Red Horse gas station, a character the readers met in previous novels. Who knew that he was such a conniving, despicable person that would engage in under-handed tactics? In addition, Katherine's old boyfriend, determined to win her back, returns with questionable tactics to rival those of Faggenbacher's.
So what must be done before Mrs. Odboddy and the Conniving Candidate is published? At the moment, I'm involved in a deep editing process intended to catch typos, punctuation issues, story line snags, expanding certain scenes, and generally looking for anything that needs changes.
My mentor is currently reviewing the manuscript with suggestions or needed corrections. The manuscript will then go to 3-4 beta readers looking for plot issues, punctuation, or point out any suggestion they feel needs addressing.
Other types of editors are often hired at this point who make changes and offer suggestions.
As a self-published author, the necessary steps toward publication all become my responsibility. I'll envision a general cover concept and as I prefer photographs, I'll search Shutterstock, Fotolia and other online photo sites for one or two photos to be added to Mrs. Odboddy's image. Once I've selected and purchased the rights to the images, they are sent to my mentor/editor/cover design genius who plays around with the photos until I'm satisfied with a finished cover design.
Acknowledgments, back cover blurb, character description, and dedications are assembled. The manuscript is sent to my genius who puts it in the correct format for publication. She returns a printed copy to me for a final edit where I often have her make 40-50 corrections or changes before it is sent to my publisher who uploads everything to Lightening Source. They return a Final printed version for my approval and a chance to correct any printing errors. Upon approval, the paperback books are printed and delivered to my publisher. I pick up my books and they are now available for in-person sales or for interested bookstores or libraries to purchase.
A correctly formatted e-book version is sent to Amazon where, if the moon and stars are in the correct alignment, they upload it correctly so folks can purchase the e-book novel from Amazon. (My Amazon experiences with my last two novels were less than encouraging.)
So, there is no wonder that a paperback novel costs $12-16. After many thousands of hours writing the novel, you now know what a self-published author must do to complete the process and provide you with a wonderful reading experience. I hope you'll enjoy all my books and look forward to presenting this latest novel, perhaps next year.
Tags: adventure, author, cozy mystery, fantasy, fiction, historical fiction, manuscript, Mrs. Odboddy, novel, process, self-publish