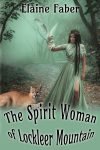 The Spirit Woman of Lockleer Mountain – My latest mystery novel.
I started out thinking this would be a humorous cozy, but the characters are much more serious in their attempts to resolve conflict. Nate is quite distraught, believing the woman in the woods with the mountain lion is his sister, Suzanna, who mysteriously disappeared following an MVA 3 months prior. The Native Americans believe the legendary Spirit Woman 'protects the community.' When Govt. demands create social unrest in a small mountain town, and drugs threaten the lives of their youth, the Spirit Woman and her mountain lion companion come to their aid. So, is the woman in the woods Suzanna, or the Spirit Woman?
THE SPIRIT WOMAN OF LOCKLEER MOUNTAIN brings a Native American legend to your mystery.  Though there is a Native American reservation near the setting of my story, I made no attempt to make this an accurate depiction of a specific tribe or legendary figure. Native American culture includes spiritual beings felt to aid in daily life. These are sometimes represented by Kachina dolls given to children. However, my legendary Spirit Woman is completely fictional.
Was there a specific inspiration for this story?  I intended to create a humorous cozy mystery regarding Lou's sewer truck, The Pooper Scooper. Eventually her septic tank service would lead to the discovery of some crime when she pumped out a septic tank. I also planned a mysterious government facility nearby. Beyond that, I just started to write and before long, an owl crashed into Lou's kitchen window and the legendary Spirit Woman came to play when she wonders if the Spirit Woman sent the owl. Nate explains that 'seeing an owl during the day means someone is going to die.'
Authors are required to do a lot of their own marketing, especially for a new release.  Under normal circumstances, my favorite way to market is to be out and about selling my books directly to the public at craft fairs and Writer events. That hasn't been possible this year which saddens me. I love to talk to customers about my books and see repeat customers who are anxious to read the next book.  
What comes next with the Spirit Woman? I'm currently working on the sequel. Though the Spirit Woman brings about some resolutions to the problems in the current story, of course, things change and new issues arise. In the sequel, the winner of a million dollar lottery ticket brings challenges and murder to Lockleer Mountain. The Spirit Woman and her mountain lion will return to assist in the new problems facing Lou and her friends. Look for this novel in 2022.
All my books are available at Amazon for just $3.99 in e-book.
My other Mystery Series'
Black Cat Mysteries: With the aid of his ancestors' memories, Black Cat helps solve mysteries and crimes. Partially narrated by Black Cat. Who knew that a cat could bring such insight into a novel, from a cat's often humorous and poignant point of view.
Mrs. Odboddy Mystery/Adventures: Elderly, eccentric Mrs. Odboddy fights WWII from the home front. She believes war-time conspiracies and spies abound in her home town. Follow her antics in these hysterical, historical novels as a self-appointed hometown warrior exposes malcontents, dissidents and Nazi spies…even when she's wrong. Watch for the fourth Mrs. Odboddy adventure novel later this year.
Black Cat's Legacy    http://tinyurl.com/lrvevgm
Black Cat and the Lethal Lawyer                   http://tinyurl.com/q3qrgyu
Black Cat and the Accidental Angel http://tinyurl.com/y4eohe5n
Black Cat and the Secret in Dewey's Diary   NCPA Cover and Interior Design Silver award 2019 http://tinyurl.com/vgyp89s
All Things Cat (anthology of short stories)   http://tinyurl.com/y9p9htak
Mrs. Odboddy-Hometown Patriot     NCPA 1st Fiction 2017   http://tinyurl.com/hdbvzsv
Mrs. Odboddy – Undercover Courier            NCPA 3rd Cover and Design 2018  http://tinyurl/com/jn5bzwb 
The Spirit Woman of Lockleer Mountain   http://tinyurl.com/y82t4xs
Tags: mystery, new release, novel, paranormal, romance, sewer truck, small town, Spirit Woman