Saturday, February 15th, 2020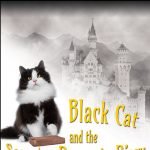 The blurb on the back of my cozy cat mystery reads something like this. 'While Black Cat narrates his own challenges back home, his mistress, Kimberlee, follows a clue to a lost treasure she found in a WWII soldier's diary. It sends her on a treasure hunt to Austria. Little does she know she is on a collision course with a stalker determined to steal the diary and reach the treasure…blah…blah…blah…'
The back of the cover cannot explain the plot's humor, drama, intrigue, or the battle on the beaches of Normandy and the friendship struck between Dewey and a German soldier recorded in the diary, or the beauty of Austria, or the intrigue as Kimberlee matches wits with the stalker.
When I first starting writing years ago, no one told me there was more to 'being an author' than plots and dialogue. In these days of limited acceptance by traditional publishing houses unless one has achieved personal fame or fortune and a platform of 10,000, an author must resort to Indie Publishing and be a jack of all trades.
Beyond writing talent, one must master the skills of publicist, bookkeeper, full time blogger, cover artist, and skilled orator, always keeping an eye and ear open for opportunities to participate on author panels and speaking engagements. Though not necessarily a 'master' at any of the above mentioned skills, I've become somewhat competent in most. Now, I've learned I must master one more skill… Memorize an 'elevator pitch' on the off chance that, perhaps in a coffee shop or the dry cleaners, I should run into a literary agent sipping a Carmel Macchiato or picking up dry cleaning.
It is imperative to command the agent's undivided attention with an opening hook, and define my scintillating plot's originality. I must convince him everyone from a cowboy in Texas to a stock broker in Hollywood would buy my book with his last green dollar, and how it will become a Best Seller…and accomplish all this in sixty seconds or less.
I have practiced my 'elevator pitch' in front of a three-way mirror and perfected where to smile, when to pause for special effect, and when to use hand motions to emphasize the final sentence. It has become second nature and the words now roll off my tongue like scotch tape at a Christmas party.
Unfortunately, in my case, I fear if I should ever be fortunate enough to find myself on that much discussed elevator with an agent, in spite of my good intentions and hours of practice, I expect the conversation would more likely go something like this.
"Uh… You're that Zondervan guy, right! Wait. Let me push this button and stop the elevator. I never thought… I have some notes here somewhere. Where is that paper? Well, never mind. I wrote a book, see? You're not going anywhere special right now, right? About that book I wrote… You're gonna love it. I called it Black Cat and the Secret in Dewey's Diary. Do you like cats? It's narrated partly by the cat. At least half of it. The other half is in Austria. There's a stolen treasure, see and Kimberlee…that's the lady, not the cat. She finds a clue in a diary. Well, you have to read it. So, there's this cat…see….
****
Black Cat and the Secret in Dewey's Diary is available on Amazon for $3.99  https://tinyurl.com/vgyP89s