Thursday, October 1st, 2020
Today, I welcome my author friend, June Gillam to my site with an interview about her latest novel.
Welcome, June. With the launch of your fourth thriller novel, can you share a few ideas about your writing journey?
"Why do you think someone would enjoy reading this particular story?"
I'm hoping all mothers, grandmothers and basketball fans will enjoy House of Hoops because it's a many-layered suspense novel set in 2019 between Halloween and New Year's Day, 2020, before Covid-19 changed our world. So in that way, it's a sort of escape back to better, or at least more normal, times. Hillary Broome is the mother of a twelve-year-old basketball phenom named Claire, and is set in Sacramento, where Hillary handles public relations for a still-under-construction community center near the NBA basketball arena downtown, the site of continuing controversy among Sacramentans.
"Is this is a series? If so, tell us about the other books. "
In House of Cuts, the first book in the series, young reporter Hillary Broome's article on a grisly murder catapults her byline from California into the national limelight and threatens to expose a shameful secret that could ruin her career—as well as bring her to the crazed killer's attention. Hillary teams up with a lonely detective in a race to catch the cutthroat before he can get to a woman who's begun to fill a void in Hillary's heart left by the mother who abandoned her years ago.
A powerful California developer collapses at a funeral in the second book, House of Dads, which throws reporter Hillary into a network of jealousy and greed. In the midst of a new romance, she's forced to investigate foul play from disgruntled home-owners, mortgage bankers, and her own family members spiraling into homicidal madness.
In House of Eire, Hillary flies to Ireland on a family vacation and digs into her Irish roots, but finds herself uncovering deadly secrets in the land of a thousand welcomes, secrets that put at stake the lives of friends and family, including Hillary's six-year-old daughter Claire.
By Book 4, House of Hoops, Hillary's found a niche working public relations for a soon-to-open community center near Sacramento's downtown Golden 1 Center as she aims to be a good mother to her volatile twelve-year-old basketball phenom daughter. Her attention is diverted by a former professor who's determined to demonize the community center as symbolic of gentrification in need of destruction.
"Where do the ideas for your books come from?"
Mostly from problems I see in our culture. For example, House of Cuts came about when my husband was forced to take early retirement from the L. A. Times due to their financial strategy. This just about killed my husband because he so identified himself with his job. I wondered what if it was a butcher whose little shop was forced out of business by a big superstore moving in. What if he was bent on revenge at losing his identity? That was the origin of Melvin the Butcher.
"Where can we get your book?"
The eBook is $3.99 and paperback is $10.99 for now and later will join the other three Hillary Broome novels on Audible. https://amzn.to/34h2IZd It is available on Amazon and other outlets on its Halloween and basketball-themed launch party over my  Zoom launch. (see below) Zoom launch purchasers of House of Hoops will get a chance to name a character in Book 5 of the series, House of White Crows.
June Gillam's Book Launch
Time: Oct 7, 2020 05:00 PM Pacific Time (US and Canada)
Link to Join from PC, Mac, Linux, iOS or Android: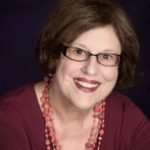 "Give us your brief bio."
Sacramento native June Gillam started out as a poet before realizing her poems wanted to become stories. Her Hillary Broome novels resist placement into traditional genres and are like the proverbial Box of Chocolates: June says her work best fits into "the social problem novel," in which various characters personify issues around region, class, race, gender, or economics to form an important part of the plot. Mostly, June loves exploring what can transform a normal person into one mad enough to kill. Her books are published by her Gorilla Girl Ink imprint, and the story of how she got that name is on her website. She has taught English at San Joaquin Delta College since 1990 and is happily involved in several Northern California writing groups, one of which she thanks in House of Hoops Acknowledgments as Elaine's Lunch Bunch.