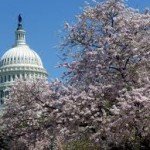 Folks often schedule visits to Washington DC in the spring time to coincide with the blooming of the famous Cherry trees. Here is the history of the Washington Cherry Trees and their good will mission.
In January, 1910, Japan sent 3000 Cherry trees to Washington as a good will gesture. Sadly, when the trees arrived, they were found to be diseased and infested with insects.
To protect American growers, President William H. Taft ordered the trees to be burned. Letters from the Secretary of State to the Japanese Ambassador expressed deep regret to all concerned. Good will was maintained and in 1912, Japan again sent Washington, D.C., more than 3000 additional Cherry trees from 12 different varieties. Two thousand of the trees were planted on the White House grounds, and the remainder planted around the city and along the Potomac River from the site of the Lincoln Memorial south toward Potomac Park. They grew and blossomed each spring to the delight of thousands of Washington residents and visitors.
Shortly after the Pearl Harbor attack in December, 1941, four cherry trees were cut down by vandals. Letters poured into the National Parks Commission, calling for "cutting all the Japanese trees down and replacing them with an American variety." Throughout the rest of the war, in hopes of preventing future damage and ill will, the trees were no long called Japanese Cherry trees, but referred to as those 'oriental flowering Cherry trees.'
The National Cherry Blossom Festival, an annual springtime event since 1935, was suspended and did not return until 1947 where a Cherry Blossom princesses and a queen are crowned. In 1957, a wealthy Japanese business woman donated a crown for the festival queen, containing more than two pounds of gold and 1,585 pearls. The queen wears the famous crown for just a few moments when she is crowned. It is then replaced with a miniature crown of gold with a pearl topping each point. The queen wears this crown for the remainder of the evening and she keeps it as a momentum of the event.
In 1965, the Japanese government generously donated another 3,800 trees to Lady Bird Johnson. Mrs. Johnson and Mrs. Ryuji Takeuchi, wife of Japan's ambassador, reenacted the original planting ceremony of 1912.
In 1982 and an several occasions since, cuttings from the original 1912 cherry trees were returned to Japan to replace trees destroyed during WWII, and when the course of a river destroyed  a number of their trees.
Private funds were donated between 1986 and 1988 to replant another 676 trees to restore the number of Washington trees to the original 3000. Between 1997 and 2011, cuttings from the surviving 1912 cherry trees were propagated to ensure preservation of the 1912 trees' genetic lineage and will be used in subsequent replacement plantings both in Washington and in Japan. Thus, the original 1912 gift have come full circle and will ensure a cycle of giving between Japan and the United States.
Tags: Cherry Blossoms, gift, Good Will, history, Japan, trees, visitors, Washington