Thursday, May 30th, 2019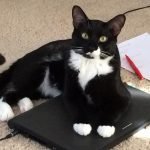 There are as many ways to design a book cover as there are books. Nonfiction book covers, particularly political books seem to lean toward THE TITLE against a plain background and the author's name. Many cozy mystery novels present an artist's rendering of a scene, often including a dog or cat. I prefer using photographs on my book covers and believe the book cover should suggest the plot of the novel. There should be a consistency in the design of a series. Using the same color and size font for the title and a similarity in design helps readers recognize a particular series.
This fall I will publish a cozy cat mystery, the fourth in the Black Cat series. Black Cat and the Clue in Dewey's Diary is a dual tale that takes place in California and also in Austria. While Black Cat and Angel are embroiled in village intrigue and riveting drama along the shores of a No. California resort town, Dorian and Kimberlee attempt to find a long-lost treasure they believe is still hidden in the small Austrian town of Hopfgarten. The story moves back and forth between Black Cat's wisdom and Angel's snarky wit, and Kimberlee unexpected challenges in a foreign country.
It all started with a message written in a WWII diary from a soldier who befriended a German soldier during the battle of Normandy. Following the war, Dewey records in his diary, a mysterious message he receives from his friend… The treasures is in Hopfgarten….touch the feet of the babe…

Kimberlee reads Dewey's diary just before she and Dorian embark on an Austrian vacation. Of course, they must go to Hopfgarten to follow the clues written in a diary more than 50 years before.
Kimberlee's Austrian adventure includes many of my 1987 personal experiences when I traveled through castles and villages, saw cows with bells around their necks, visited 1000 year old churches in Salzburg, and finally into Hopfgarten. It was there I encountered many of the events included in Kimberlee's adventure, and first imagined the story of a missing treasure and Dewey's diary.
The novel is currently being edited with an expected publishing date this fall. So, finding the right photographs for my Black Cat mystery was very important. I wanted the photos to suggest both parts of the story. It had to include a cat to represent Black Cat. I wanted his foot on a diary to suggest that important plot point. It must also suggest the other half of the story in Europe. There are plenty of Europe pictures, but the search was on for the right black and white tuxedo cat.
I requested photographs, from an online cat group, of black and white cats with their paw raised so a diary could be photo shopped under it. I received over 100 lovely pictures. Sebastian, pictured above, was the closest to my need. However, another picture was eventually selected from Shutterstock. The cover will include the cat with his foot on a diary and a shadowed castle behind.
I'm looking forward to publishing Black Cat and the Clue in Dewey's Diary. I think my readers will enjoy this new and exciting dual story. Let me know how you feel about a book with basically two stories interwoven throughout.