Monday, September 16th, 2013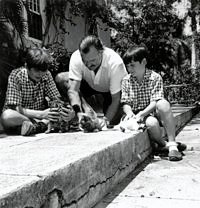 Through the wonders of time-travel and internet technology, today I'm interviewing American author, Ernest Hemingway.
Elaine: "What is the most memorable thing you recall about your childhood?"
Ernest: "My parents had a summer home near Walloon Lake, Michigan when I was four years old. My father taught me to hunt, fish and camp in the woods. This experience instilled in me a passion for outdoor adventure and living in remote places. I guess it set the tone for my need to live an adventurous life."
Elaine: "What was the first job you ever held?"
Ernest: "I worked as a cub reporter for the Kansas City Star for six months right out of high school. They gave me a Style Guide which became the foundation of my writing. 'Use short sentences and short first paragraphs. Use vigorous English. Be positive, not negative.' See the entire Kansas City Style guide here:
http://www.lostgeneration.com/includes/Hemingwaystylesheet.pdf
Elaine: "Tell us about your first publication."
Ernest: "After returning from WWI in 1919, I took a fishing trip with high school friends into Michigan's Upper Peninsula. The trip inspired the short story, Big Two-Hearted River, where Nick Adams takes to the country to find solitude after returning from war."
Elaine: "I understand you were influenced by a number of famous people. Can you tell us about them?"
Ernest: "My first wife, Hadley and I moved to Paris in 1921 and I worked as a foreign correspondent for the Toronto Star. While there, I became friends with Gertrude Stein, James Joyce, Ezra Pound and F. Scott Fitzgerald. Gertrude became my mentor and introduced me to a number of artists and writers – Pablo Picasso, Joan Miro' and Juan Gris. We collaborated on a book called In Our Times."
Elaine: "I understand many of your books were inspired by your travels and adventures."
Ernest: "A safari in East Africa in 1933 inspired Green Hills of Africa and several short stories. To Have and Have Not was published in 1937 while we lived in Spain."
Elaine: "You love cats, right? You're a man after my own heart."
Ernest: "LOL. I learned to love cats when I lived in Cuba with my second wife, Pauline. My first cat was a gray Angora named Princessa (middle cat in photo). Two addition males were purchased and I wrote extensively about one of the kittens named Boise. At that time I was writing For Whom the Bell Tolls (1940) based on my experiences during The Spanish Civil War."
Elaine: "Wasn't that was your most famous book?"
Ernest: "It was nominated for the Pulitzer Prize in 1940 and sold half a million copies within months. That makes it one of my favorites."
Elaine: "And then in 1954, you won the Nobel Prize in Literature for 'mastery of the art of narrative and the influence exerted on contemporary style' as demonstrated in The Old Man and the Sea. That's pretty impressive, too."
Ernest: "I felt that Carl Sandburg, Isak Dinesen or Bernard Berenson deserved the prize more than me, but the prize money was welcome."
Elaine: "You're too modest. Here is what you wrote in a speech to be read in Stockholm, as you were not able to attend to receive your prize. "Writing, at its best, is a lonely life. Organizations for writers palliate the writer's loneliness but I doubt if they improve his writing. He grows in public stature as he sheds his loneliness and often his work deteriorates. For he does his work alone and if he is a good enough writer, he must face eternity, or the lack of it, each day."
Elaine: "You have led an exciting life. Can you leave us with any words of wisdom for writers and to regular folks?"
AUTHOR CORNER: "There is no rule on how to write. Sometimes it comes easily and perfectly. Sometimes, like drilling rock and then blasting it out with charges."
E. Hemingway.
EVERYDAY FOLKS: "I have learned a great deal from listening carefully. Most people never listen." E. Hemingway
*Source: Ernest Hemingway – Wikipedia:
Tags: author, cats, classics, correspondent, Ernest Hemingway, personality, travel
Posted in Uncategorized | 6 Comments »