Tuesday, August 1st, 2017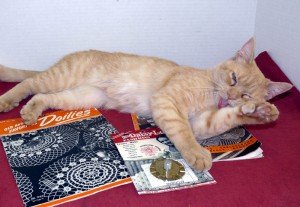 I live in Dead Bush, a small town in the center of Texas. Our town sports three saloons, a general store, the bank, one church without a steeple, a blacksmith shop and another establishment such as nice folks don't talk about in mixed company. Modern wooden slat sidewalks was added this spring in deference to the request of those specific ladies who live in the aforementioned establishment.
On Founder's Day, the local farmer's wives bake pies and hams and sweet potatoes for a giant banquet and sponsor a square dance out behind the Blacksmith's shop. Bright and early this morning, neighboring families with all the kids trickled into town looking for a good time.
Not long after, several soldiers still wearing raggedy Civil War uniforms rode into Dead Bush on worn out horses. The soldiers commenced to drink and gamble and ordered steak dinners at the Dry Spell Saloon where, among other things, such entertainment and libation is encouraged.
I sleep in the back of the saloon, ever since the town sheriff found me, the lone survivor of a wagon train massacred by wild Indians.
I don't belong to nobody, but Shorty, the barkeep saves me left-overs from the day's leavings. That, added to my hunting prowess, fares me well. Since I'm the only cat for miles around, the regulars at the saloon adopted me as a mascot. I'm a fine figure of a cat, though some would say, somewhat on the portly side. It must be so, as to the validation of the roaming tomcat what comes through town every spring. Up until now, I haven't given him a tumble.
Cats are almighty scarce and considerable valuable in this county. A number of local farmers have offered Shorty big bucks for me, beings as cats can keep a barnyard free of varmints without half trying. There are some folks from the big cities who haul cats in their saddlebags to small farming towns, assured of a quick sale and a $20 gold piece. The farmers soon learn they don't know nothin' about varmint huntin.'
Well, seems these soldiers what came to town sat and drank well past noon. I caused quite a stir when I wandered through the saloon. One soldier took a notion to buy me, having heard about cats being worth big money up the river. Shorty declined, saying I couldn't be sold since I was a free spirit and didn't belong to nobody.
As the gambling and drinking progressed, the soldier plied Shorty with enough palaver and drink that he was finally cajoled into a card game with me as the stakes.
I sat near the potbelly, preening my whiskers, somewhat amused by the stupidity of these humans what thought they could buy and sell another living creature. Wasn't that decided by the Civil War after all?
The poker game progressed and it seemed my future as mascot at the Dry Spell Saloon was dependent on the turn of their cards.
Four players hunched over the poker table, cards fanned in their hands, empty glasses lined up in front of them. Shorty's chips were going fast. Holding on to the Dry Spell Saloon mascot didn't look promising.
The size of Shorty's chips rose and fell as the afternoon wore on. I sat on a nearby table, commiserating with Mr. Casper, an old codger who operated a small gold claim in a nearby river. The old man was a fool, but he didn't smell quite as bad as the other miners, as being tipsy a good deal, he fell in the river more often than most, washing away some of his natural man-stink.
In the late afternoon, the neighbor ladies announced their Founder's Day supper was served. The saloon emptied except for the four poker players who found it harder and harder to sit up straight. Heads lolled and cards tumbled from their hands. More whiskey landed on the floor than in their glasses. Never in the history of Dead Bush had such a game gone on for so long or the stakes so roundly coveted. I was, indeed, a prize.
Eventually, Smitty Rosenblatt passed out. George Waddlebaker went broke. Shorty hung in there, though blurry eyed, he continued to fight for his meezer. Poor Shorty's stack of chips got even smaller.
Seeing the inevitable handwriting on the wall, I slipped out the front door and headed out of town onto the prairie, intending on being absent for a few days. An occasional vacation is always revitalizing to one's health and seemed particularly attractive today.
Besides, there weren't no sense being around when Shorty went broke and the soldier attempted to claim his prize. I didn't plan to spend the next week strung to the back of a saddle in a burlap sack until the old soldier found a farmer with a rat-filled barn and a $20 gold piece.
I'm the only cat worth her salt in Dead Bush, and I intend to keep it that way. At least until next spring, when that tomcat comes back to town.