Thursday, October 8th, 2015
In Black Cat's Legacy, generations of my ancestors waited for someone to return to the lodge to solve an unsolved murder. When Kimberlee returned to Fern Lake, with the aid of my ancestor's memories, it was my legacy to help her solve her father's murder. It didn't hurt that I knew where the bodies were buried, so to speak.
.
In the sequel, Black Cat and the Lethal Lawyer So, Kimberlee took me with the family to her grandmother's Texas horse ranch. That's where I met my soulmate with eyes the color of mustard and stripes the color of marigolds. It was love at first bite…er…sight!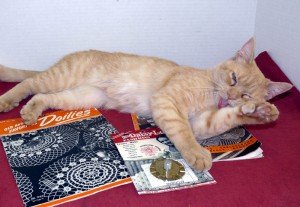 Kimberlee caught on pretty quickly to the lawyer embezzling Grandma's money through a fake children's charity. Could a murder plot be far behind when Grandma announced a plan to disinherit the charity and leave her money to her granddaughter? I, Thumper, being the black cat of the title, had to face a killer to prevent him from murdering her sorry…self.
Which brings us to Black Cat and the Accidental Angel. When I awoke in a busted cat carrier and realized I'd been left behind following an MVA, I had a conk on my noggin and no memory of my former life. The golden striped feline beside me said, "Call me Angel. I'm here to take care of you." Why did she claim to be my bride? She seemed pretty sure of herself…and she was as cute as a catnip mouse.
Our journey to find home brought us to John's Emu ranch and vineyard where he and his daughter, Cindy, took us in. John was about one giant hairball from foreclosure and homelessness. As his troubles increased, so did the dangerous pranks endangering Cindy's safety.
I wanted to head for home, but Angel put her paw down. She insisted divine destiny had brought us to the ranch to help John and Cindy. When she risked everything to save Cindy, I learned the most important lesson ever. If you lose your dearest soul mate, nothing much else matters, not even going home or knowing your own name….
About the title, Black Cat and the Accidental Angel? Well, Angel has a tale of her own to tell. You won't want to miss our story of thrills and chills, faith, prayer, and love as we tell our truths a different way than you've ever heard before…through the eyes of a cat.
All three Black Cat Mysteries are available at Amazon (e-book) for just $3.99. If you have friends who love cats, this would be a nice surprise gift. Contact me directly for an autographed copy for $13.00 (free shipping within USA).