Thursday, May 26th, 2022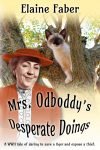 The fourth Mrs. Odboddy adventure is finally available in e-book at Amazon ($3.99) and in paperback from me ($15.00 free shipping). As Mrs.  O continues to fight WWII from the home front, she continues to be search for a home for the displaced carnival tiger. She decides to take her burden to the Lord. From Chapter Six…
"Lord, it's me, Agnes Agatha Odboddy. Yes, I know you must be pretty disappointed with me most days, but I do my best, Lord, really, I do. You won't be surprised to hear that I'm in another jam. It's not about me this time, it's for Shere Khan. Surely, You approve of my efforts to save him, because it's a worthwhile mission. I know you're busy with the war and all, so I'll get straight to the point. I need a caregiver for the tiger right away, and I need a permanent home for–"
Bing… Bong… The doorbell? Agnes's head came up as she turned toward the bedroom door. She bowed her head again. "Someone's at the door, Lord, so I need to go, but I'll be back as soon as I can. I'd appreciate it, Lord, if You could ponder on a solution while I'm gone. Uh…Amen!"
Agnes hurried to the front door and flung it open. She put her fist to her mouth. "Oh, my stars. You! I can't believe it. What are you doing here?" She grabbed the visitor's arm, pulled him into the living room and thrust him onto the sofa. "Did you come on your own or did God send you?"
Her visitor raised his eyebrows and shrugged. "Well, I…I guess it was my idea."
Now, in the past, due to her inability to keep her mouth shut and her nose out of things that were none of her business, Agnes often found herself in a pickle. As a result, she would get on her knees and bargain with the Lord for deliverance. More often than not, thanks to the benevolence of the Almighty, her conundrum would reach a satisfactory solution. But, never in her history of misadventures had He answered her prayer before she even got to the 'Amen,' proving that He'd seen the problem coming and was already several steps ahead in solving it.
There on her sofa sat Charles, the young man from Albuquerque she met last summer, who risked his life and freedom to help her. Thanks to Charles, when she was unexpectedly waylaid, he provided an unconventional method of travel to Little Rock, where she was able to reconnect with Katherine and complete her journey to Washington, D.C., to visit the president. (Mrs. Odboddy And Then There Was a Tiger)
Now, some months later, imagine her surprise to find Charles at her door. Surely, God sent him to Newbury to help save the tiger.
One problem solved, but many more ahead. Hope you'll all enjoy this new exciting and humorous adventure.
Contact me at   Elaine.Faber@mindcandymysteries.com  to order an autographed paperback novel. 
https://tinyurl.com/5xah4cnt    for an Amazon e-book ($3.99)